Welcome to the official website of Mark Arax,
the award-winning author whose books on California have been compared to the "great social portraits" by William Saroyan and Joan Didion. Whether in the pages of a newspaper, magazine or book, Mark is considered one of the finest journalists of his generation. His most recent book, "The Dreamt Land" launches May 2019.
"The Dreamt Land is the book Mark Arax was born to write. Nuanced, deeply researched, and profoundly personal, it offers, through its history of agriculture in California, a deep dive into the soul of the state. Arax knows the territory; he has written about rural California for many years. This is his crowning achievement, a work of reportage that is also a work of literature. It belongs on the short list of great books about the state."
- David L. Ulin
author of Sidewalking: Coming to Terms with Los Angeles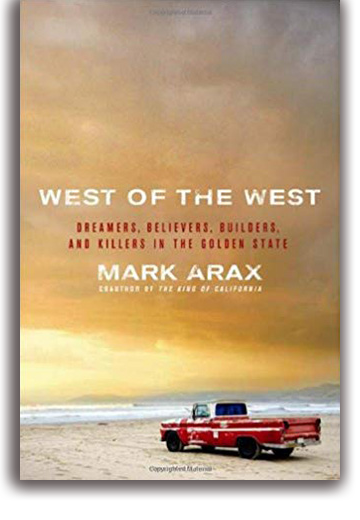 "Arax gives us 'intimate dramas' shaped by the intense subtleties of his writing. . . . He goes at events with the fierce bulldog tenacity that is one of his trademarks as a writer. . . . charged and highly moving stuff."
- Los Angeles Times
"Riveting...the Dreamt Land is imbued with deep attachment to place. This is a deeply reported work keenly alive."
—Los Angeles Times
"The Dreamt Land is a monumental work by a tireless researcher and remarkable writer. The book is enriched by Arax's long and personal connection to the valley and those who cultivate it."
—Voices of Monterey Bay
In the world of journalism, Mark Arax stands out as a rarity. On one hand, he is a skilled investigative reporter who unearths secrets from the depths of shadow governments. On the other hand, he is a gifted writer whose feature stories and books are distinguished by the "poetry of his prose."
His Los Angeles Times stories revealing state sanctioned murder and cover-up in California prisons were praised by The Nation magazine as "one of great journalistic achievements of the decade." Fellow writers at PEN and Sigma Delta Chi have singled out the lyrical quality of his writing in award-winning stories on life and death in California's heartland. In a review of his most recent book, "West of the West," the Washington Post called Mark a "great reporter…. tenacious and unrelenting."
"Arax gives us 'intimate dramas' shaped by the intense subtleties of his writing. . . . He goes at events with the fierce bulldog tenacity that is one of his trademarks as a writer. . . . charged and highly moving stuff."
—Los Angeles Times
"Arax is the perfect cicerone through the heavenly and hellish landscapes and historical evolutions he has chosen to chronicle. . . . He knows how to write colorfully. . . . The tales are never hurried but unfolded in a measured, controlled manner for maximum context and texture. And he has come up with some doozies! Haunting."
—San Francisco Chronicle
"Arax is charged, emotional, driven ... in the course of In My Father's Name, Mark Arax does more than vindicate his father. He also makes peace, and, in doing so, liberates himself."
—The Washington Post